---
The Judokai is the Dallas home for Judo, Jiu-Jitsu, and Wrestling – the way it ought to be.  Training focuses on throwing / take-downs, grappling, submissions, and self-defense.  The Judokai started in 1990 and has served the Telecom Corridor region of North Dallas, Richardson, Plano and Murphy Texas ever since.  We are proud to be one of the oldest martial arts organizations in the DFW metroplex.  
Our Judokai Warriors are women, men, and children of all experience levels ranging in age from 6 and up.  Our instructors are nationally certified with over 30 years of coaching experience and focus on the needs of each individual student.  Together they worked to make The Judokai one of the most well known Judo organizations in Texas.
Brazilian Jiu-Jitsu, Wrestling, Submission Grappling, Sambo, and Mixed Martial Arts enthusiasts are encouraged to join.
No silly IJF rules.  No outrageous BJJ prices.  No magical "Ki".  No WWE.  Just pure "old-school" Judo, Jiu-Jitsu, and Wrestling – all of it.
The Judokai believes in strong traditional fundamentals, but a modern safe interpretation of competition rules where there is no differentiation between Jiu-Jitsu, Wrestling, Sambo, Pankration, etc.  Training methods, names, and contest rules will vary by style and origin; Japanese, Greco-Roman, Brazilian, etc.  But good technique is good technique, period.
That's the way it ought to be
– The Judokai Warriors
---
Location and Times
The Judokai is conveniently located in the Murphy Activity Center with easy access from Richardson, Plano, Allen, Wylie, Garland, and the North Dallas metroplex area. 

The Judokai
@  
The MAC
Murphy Activity Center
201 N Murphy Road
Murphy, TX 75094
** Children 12 and under may participate in these classes with instructor approval.
An all-white Judo Gi / Kimono is required; however, new students can wear workout clothes for their first classes. Extra "brownie points" for students who use traditional unbleached judogis.
For No-Gi training, students should wear standard white Judo Gi / Kimono pants and an all-white or all-black T-shirt or rash guard.
---
Join Here
No outrageous prices.  No hidden fees.  Just simple straightforward memberships with family discounts and yearly specials.


Primary Membership

$100 / month

Additional Family Members

$50 / month each

Crypto Currency Special

Yearly Membership
* All monthly membership subscriptions are charged for the first and last month upon signup.  The regular monthly rate is automatically billed each month thereafter.
** All subscribed up-to-date members of The Judokai receive free entry into our Fight Club IFJA/AAU Freestyle Judo tournaments, as well as, free clinics and special events.
*** All members are required to maintain insurance with either AAU Judo ($29/year) or other national sanctioning organizations.
---
Black Belts and Coaches
The Judokai has the depth and experience that other schools strive to achieve.  Our instructors are active local members who have literally "been there and done that" in Dallas since 1990.  We don't need to use anyone else's name or logo on our front door.  No purple belts running this school.  No black belts that are too young to drive either.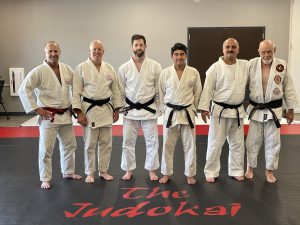 Vincente D'Ingianni, Robert Dechant, Clint Moon, Nick Feliciano, Wail Kassim, John "Robin" Tidwell
"Get off your ass and learn Judo"

---
Contact Information

TheCoach@Judokai.net
 +1 214.394.4274
---
Hosting and technology from Binary Systems, Inc. View our posts on The Bitstream