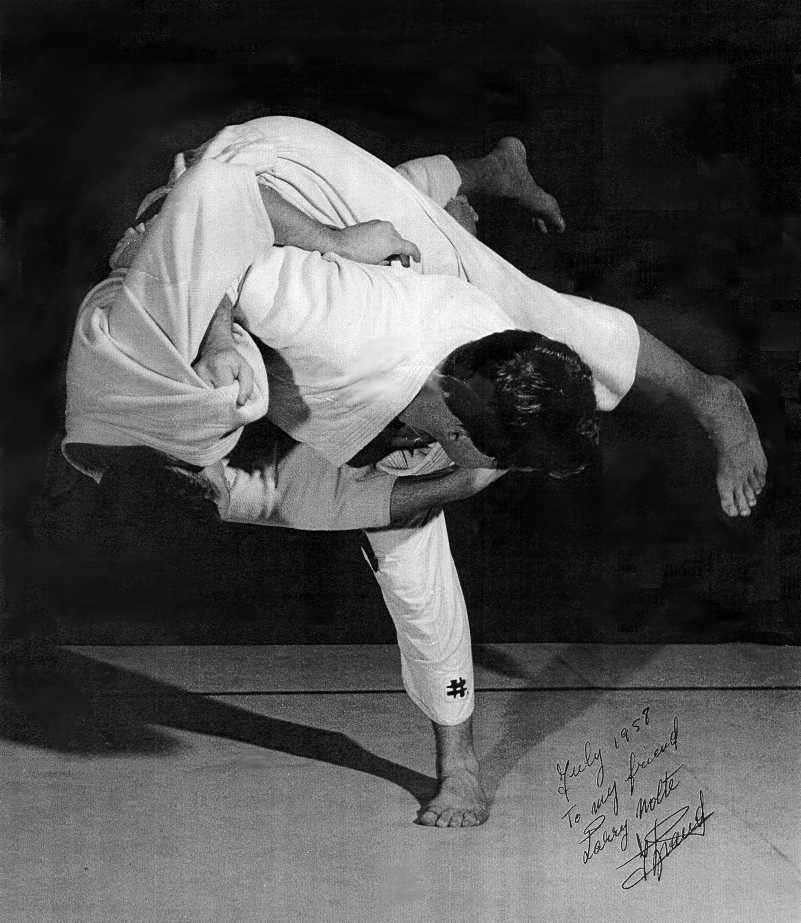 "The Coach" Jacques Legrand, 10th Dan
"The Coach" Jacques Legrand brought Judo to New Orleans in the 1950s during the "Golden Age of Judo". Jacques Legrand started The Louisiana Judo Club at 230 Burgundy St. in the French Quarter just behind the New Orleans Athletic Club.
Coach Jacques Legrand circa 1956
Jacques in France 1948 at age 17
Jacques was a swimmer for the French National Team.
Top (R to L) Fred Gregory, Troy Hysmith, Dr. Macalusa, C. Smith, J. Smith
Bottom (L to R) Paul Legrand, Jacques Legrand, Vaules, Leon Szilers
L-R standing : Bruce Toups, Arthur Boe, Jacques, Bruce Volker, George Flannigan, Fred Colley, Tommy Hysmith
L-R kneeling: Billy Lanius, Joe the Grinder, his son, and Perrier Legrand
Raymond Sasia, Jacques Legrand's Coach
Jacques started Judo at the age of 23 at the Oda Judo Club in Paris France. His instructor was Raymond Sasia a 4th Dan and also the Chief of the National Police in Pairs. Jacques was awarded his 1st Dan in one and half years of Judo study. To pass the test for Black Belt in France in 1953 one had to perform the Nage no Kata, pass an oral and written test and also beat 5 black belts consecutively within a specified time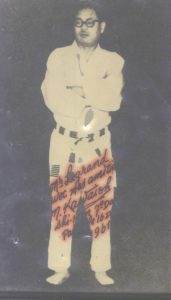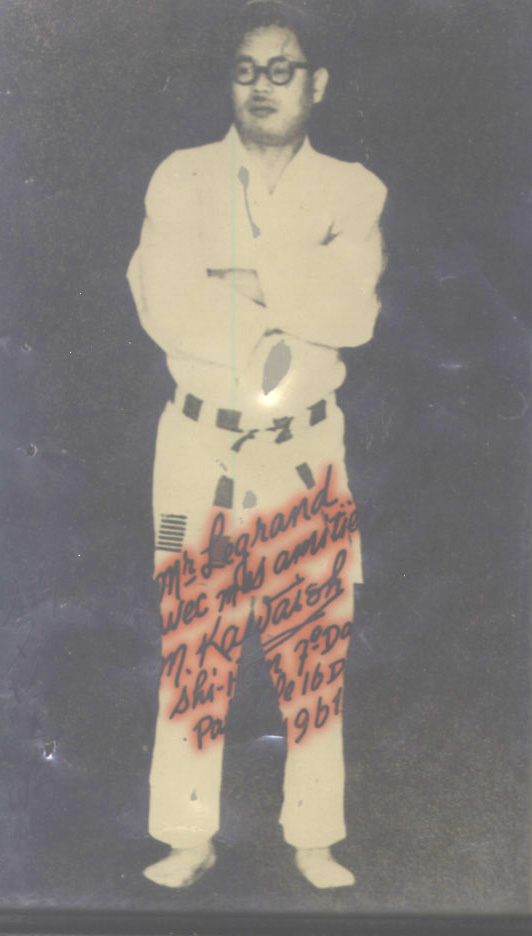 Sensei Mikinosuke Kawaishi
Jacques Legrand studied the Kawaishi judo system in Paris France. Mikinosuke Kawaishi came to believe that merely transplanting the teaching methods of Japan to the West was inappropriate. He developed an intuitive style of instruction and a numerical ordering of the techniques that he felt was more suitable for the occidental. This seemed to catch on in France and there was a rapid growth of interest in Judo. Jacques Legrand is a product of that very system and subsequently all of his students.
In 1958 the Aloysius High School (now Brother Martin) football coach, enlisted the help of 27-year-old Jacques Legrand, a Frenchman living in New Orleans, who won the U.S. judo championship. In an article in the Times-Picayune newspaper, the football coach explained: I've known for some time the potential of judo and what it could do, but I never did link it with football until I saw Jacques demonstrate how he used judo maneuvers and parries, within football rules, to fend off, clear and throw a man. I think that judo could be a great help to all football players and the judo idea of using the other man's power to execute a throw or defense can be applied to football. We are certainly going to try and use it to an advantage.
Jacques Legrand said: Protection and defense are important in judo. If it can be applied to football it could be real good. Down at the New Orleans Athletic Club my guys are never hurt or injured. I teach them how to fall and defend themselves before they learn how to fight on the mat.
Karl Geis, Dave Hunter & Jacques Legrand
Coach Jacques Legrand visits the Nortel Judokai in 1996 for a promotion test and clinic. Notice, young Jacqueline D'Ingianni's baby carrier is on the floor behind the table.
The Black Belts of the original Nortel Judokai
James J. Linn, Jacques Legrand, Barney Wick, Jim Young
Vincente D'Ingianni, and Chima.
Later Photos
Jacques, his grandson Bradley and 81 year-old Sam Exnicios
Jacques, daughter Nicole, and grandson Bradley
Coach Jacques Legrand
May 30, 1931 – May 31, 2007
Jacques Legrand, age 76 years, departed from this life on Thursday, May 31, 2007 at Canon Hospice in Jefferson, LA. Mr. Legrand is the beloved father of Jacques Legrand, Jr., Christine Delatte and Nicole Johnson. Father-in-law of Capt. Robert Johnson and Chet Delatte. Brother of the late Paul Legrand. Grandfather of R. Bradley Johnson, Laine Johnson and Gabrielle Delatte. He is also survived by numerous nieces and nephews. Mr. Legrand was a native of Paris, France and a resident of the New Orleans area since 1957. While living in France, he was a Paris Fire Fighter and served in the French Army. He competed on both, the French National and Olympic teams in Swimming and Judo and in 1956 was the French National Champion in Judo. Upon arriving to the United States he became the swimming instructor and lifeguard at Stallings Pool in Gentilly and also Pontchartrain Beach. He was affectionately known as "Coach" to everyone due to his many dedicated years as a Judo instructor. He started his local career as a Judo instructor on Burgundy St. in the French Quarter. For several decades he was the owner and operator of a health and racquetball club in Metairie which was a friendly and inviting place for the members and their friends to gather. Over the years his many Judo trips throughout the country and the world were always full of fun and adventure. Upon his death, Mr. Legrand achieved 10th Dan, which is the highest rank a Judo artist can achieve.
Jacques Legrand, Judan (10th Dan)
The Judokai is committed to keep the spirit of Jacques Legrand alive by continuing "The Coach's" independent hard-edge teaching style, traditional fundamentals, and love of life.
---